< --- Scroll To View More --- >
< --- Scroll To View More --- >
Faux Leather

About Faux Leather
As well as real leather you also have Faux or Fake leather. This is a man made product, designed to give the look and feel of real leather at a lower cost. Faux leather is very similar to Vinyl. It can be very hard to tell the difference from this and Protected leather as the finish is very much the same. The main difference is the quality and the durability of the final product. Faux leather is not as strong as real leather and tends to crack and split quite easily. It is easy to clean in the same way as protected leather but generally only has a third of the life expectancy of real leather, which is something well worth thinking about should you wish to purchase something that is made from this. Caring for faux leather is also not very easy as it is prone to cracking. Things like sunlight and applying incorrect products that can dry the surface up, speeding up the process and once cracking starts it really isn't something that can be repaired.
This type of leather is easy to clean but you should avoid getting it too dry, cleaning can dry it up, so conditioning it afterwards is a good idea or just using a conditioner to clean it is very safe and simple.
How to Tell if its Faux Leather
There are lots of ways banded about on how to tell the difference between real leather and faux leather but in truth there is no real way to differentiate between the two unless you can see whats underneath. The underside of real leather is leather and faux leather is normally some man made material. We can normally tell by looking at it but the best way we have found it to test the strength and feel of it. The latest versions of faux leather tend to stretch a lot more than real leather so by pulling at it you can normally tell, it is just quite thin, flexes a lot and feels more like vinyl. There are many types of faux leather about currently though, you have bi-cast, bonded, corrected and come under a lot of other names.
How to Care for this Type of Leather
Faux leather is easy to clean with its protective surface but if you do its important to both use the correct product to clean it and then the correct to protect it afterwards, otherwise it will become dry, which can cause cracking or splits occurring.
The main rule with all types of Faux Leather is not to over clean it with a solution that is too strong. If you do it will dry up the surface and cause it to crack and break up.
Although its easy to clean, it is really best to avoid applying products to faux leather completely unless you have the right stuff. Should it get dirty you can use a gentle cleaner on it and then apply a conditioner to protect it from drying up. Generally its a case of avoiding it getting to dry either by sunlight or by over cleaning it and not protecting it afterwards.
What Products are Available for this Type of Leather
If it gets dirty leather cleaner will remove all dirt no problem. If you do clean it always apply a conditioner afterwards to stop it getting to dry. Stain protection is a good way of protecting it from staining and can be applied after conditioner once fully dry.
Our Recommended Product for General Cleaning and Conditioning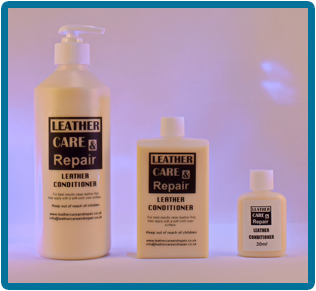 A really safe and effective way to clean and condition all types of faux leather is just using Faux Leather Conditioner. This product will remove general dirt and dust but will also protect the leather at the same time. Very simple to apply and you do not need much.
For a full list of safe and suitable products that for faux leather please see the link below.

< --- Scroll To View More --- >
For additional assistance with products please contact Sales@LeatherCareAndRepair.co.uk
< --- Scroll To View More --- >

| | |
| --- | --- |
| Shopping Basket | |
| To buy items simply ADD them to your cart and then select View Cart when you have finished. | |
| | |

< --- Scroll To View More --- >

< --- Scroll To View More --- >

| | |
| --- | --- |
| | Please note we ONLY post to the UK. |

< --- Scroll To View More --- >

< --- Scroll To View More --- >

Customer Feedback

'AMAZING PRODUCT DOES WHAT IT SAYS IN THE VIDEO, THANKS EXCELLENT+++++++'

'Great customer service product very effective on stain that was difficult'

'Good kit to get for suede furniture comes with everything you need'

'Great seller - on time - description perfect etc - great seller! thanks v much!'

More Feedback >