Classic Car Leather & Vinyl Restoration
Leather Care & Repair Classic Car Gallery
We can repair various interior items such as leather and vinyl car seats, steering wheels, dashboards, door panels, plastic trims, gear sticks, handbrakes & more. Repairs include scuffs, scratches, burns, rips, tears, stains, colour loss & car seat restoration.
< --- Scroll To View More --- >
View Our Seat Restoration Process here or see more projects below.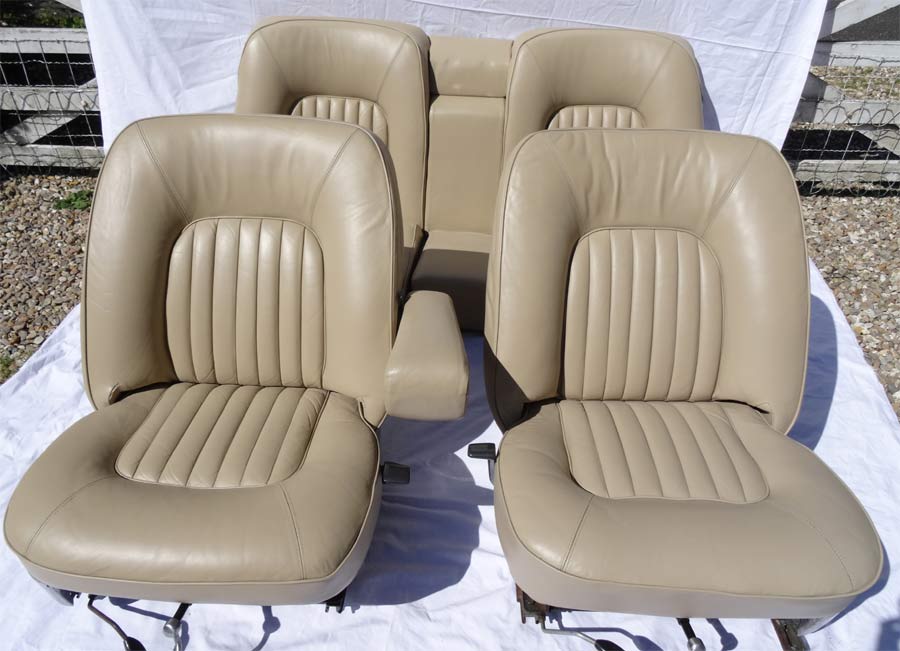 Rover P5B seat restoration project. View our restoration process with these Rover P5B front and back seats undergoing a re-vamp.

We repair leather and vinyl on all types of cars including Alfa Romeo, Aston Martin, Audi, Austin, Bentley, BMW, Cadillac, Caterham, Chevrolet, Chrysler, Corvette, Daimler, Dodge, Ferrari, Honda, Jaguar, Land Rover, Lexus, Lotus, Mercedes-Benz, Porsche, Rolls-Royce, Saab, Volkswagen and Volvo.
< --- Scroll To View More --- >
Daimler Leather Restoration

Classic 1971 Daimler Sovereign full interior repair. We were called in to restore the front and back seats, door panels, kick plates & panels.

Bentley Leather Restoration

This fantastic old Bentley needed a full interior repair. We repaired all of the leather seats, top and bottom section of the dashboard, centre console and door panels.

Ferrari Leather Restoration

This Ferrari needed an interior restoration. We repaired the leather seats, leather door panels, glove box, sun visors, back parcel shelf and steering wheel.

Aston Martin Leather Restoration

This classic Aston Martin was suffering from the paint rubbing off the seats due to a previous repair. We removed the old repair and restored the two front seats back to new.

Porsche Leather Restoration

911 Porsche leather restoration. This car was only about 7 years old but the leather was starting to crack and look old. Restoring them made it look like new again.

Mazda MX5 Leather Restoration

This Mazda MX5 had general wear and cracks over both front seats. New panels had been replaced but they were the wrong colour, so we restored eveything at once.

BMW Leather Restoration

BMW leather seat repairs. This BMW had been repaired before. We removed all the old DIY repair, repaired the hole in the drivers seat and restored all of the seats.

Audi Leather Restoration

This Audi was not very old but the leather had worn on the drivers seat where the driver got in & out. It also had a cigarette burn, which was on a perforated surface.
We are a fully mobile leather repair & leather cleaning service providing leather restoration on all kinds of items such as leather & vinyl furniture & sofas, car interiors, boat seats & aircraft interiors. As well as leather we also repair vinyl & plastic. We provide a fully mobile service at your convenience. Whatever your requirements we aim to match them. Contact us for a free quote.